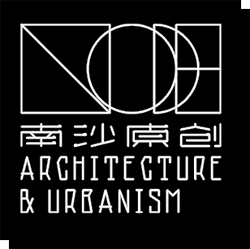 ABOUT NODE
LOCATION CONDITION & POSITION
NODE Architecture & Urbanism was established in 2004. It is a small and high quality architectural practice in the Pearl River Delta region, which grew out of a series of projects associated and completed with the Fok Foundation of Hong Kong, and has extended its practice geographically outward. Founded and led by Principal Architect, Doreen Heng LIU, NODE currently consists of 15 architects and designers from China and other countries, and has completed and is implementing architectural projects in China. For years, NODE, with Nansha as her local base and Hong Kong as her international window, also established a studio in Shenzhen in late 2009, has been conducting a diversity of architectural, art and design practices in the PRD region.
Nansha is a uniquely situated at the land and water interface of Pearl River. It is a transit node between the east and west banks of the river; to the north is Guangzhou and to the south is Hong Kong. In contrast with rapid urban development in the rest of China, Nansha has taken a relatively slower pace toward urbanization. NODE argues for participation and inclusion of local interests as well as those from external sources, focuses on the basics of architecture in order to maintain a critical position under the pressure of tremendous speed, quantity and size. NODE's work makes a departure from the essential issues of building – site, program, space, materials and construction– and ventures into complexities of urbanism, nature, landscape, tradition and culture. With such concerns, we as well consistently seek multi-disciplinary collaborations. Besides architecture, our work also covers a range of projects from scale of furniture and lighting features to urban design. We actively participate in academic forums, art exhibitions and installation designs locally and globally.
NODE here is understood as the point in which different vectors – possibilities, tendencies, and events – intersect. It is neither a point of departure or of arrival. It is not a fixed entity. It is determined by ever-changing fluxes and dynamics.China is undergoing a great transitional period. The opportunities for architects are not only to design and build but also to contribute in the shaping of contemporary China. This is the ultimate challenge for NODE.